Custom LCD Solution
Payment and Shipment
1)We accept credit cards, T/T bank transfer, Moneybookers and debit cards.
2)We cannot arrange shipments on weekend or public holidays.
3)Your orders will be shipped out within 72 hours after your payment is verified (Excludes Saturdays & Sundays) when stock is available.
4)Please be advised that the international delivery time highly depends on your local customs and post services policy.
5)Customs fees and import duties for exports are your responsibility. We cannot predict or prepay these fees. We will charge you for any duties or customs fees erroneously charged to us.
Warranty
1)This product comes with one-year warranty. Buyers must contact us first for the exchange within the warranty period.
2)All the products will be 100% test before delivery.
3)All the TFT LCDs are A+ grade, without bad dots.
4)Our warranty does not extend to any products that are physically damaged or are not under normal operating conditions as a result of misuse or improper installation on the buyer's part.
5)We will provide a Returned Merchandise Authorization (RMA) Number for each item that needs returning. We do not accept the returns without a RMA number.
6)The returns should be returned with our original packages.
7)Customers must contact us first for the return address.
8)In all cases, buyers pay for the shipping fees at their own cost to return products for exchange or refund. We will be responsible for the postage of replacements.
9)The refund will be made upon receipt of the return item. After we receive the product, we inspect it to determine the cause of any defect, then update by email with our findings. This process usually takes five business days.
FAQ
Q: How do your factory control the quality?
A: We have attained ISO 9001:2008(Registration Number:CN-00211Q10082R0S) and ISO14000:2004(Registration Number:CN-00211E20016R0S) certification by IQNet.

HuaErSheng Display is well acclaimed by our customers and peers for the high quality products.
We conduct the most extensive tests on each product that comes off our production line. We conduct quality audit and inspection from material acquisition, through every critical stage in production, all the way to packaging and shipping.
We have a strict Quality Control System of LCDs: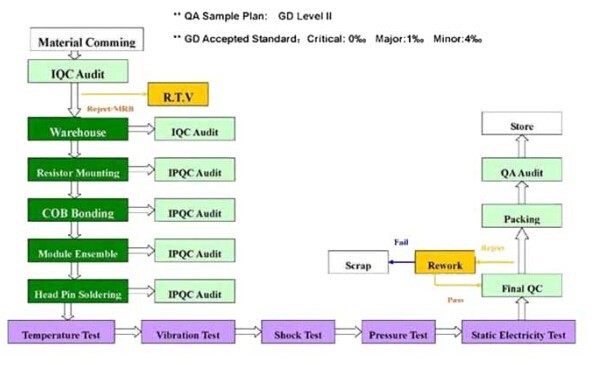 And PCB test Procedures:

Reliability Assurance Test:
1) Damp heat, steady state: The LCD would be put at a place which temperature is 70C and the humidity is 90%RH, it takes 96 hours to test the LCD, when it's resumed the performance should be normal.
2) Low temperature: The LCD will be put at a place which temperature is -25±3C, it takes 24 hours to test the LCD, when it's resumed the performance should be normal.
3) Change of temperature: The LCD will be put into water which temperature is 100±2C, it takes 10 minutes to test the LCD: then put it into ice water which temperature is 0±3C, lasting 10 minutes, repeat this for 10 times, and when it's resumed the performance should be normal.
4) Pin intention: Put a force about 1 Kg on the same axe of pins, lasting 10 seconds, the pin should not be broken, loosen or removed relatively.
Q: Are you a factory?
A: Yes, of course, we are factory names JiangXi HuaErSheng Technology Co.ltd. Most displays we sell are designed and produced by ourselves.
Now we have Industrial Park in JiangXi, and we also have Office located in ShenZhen. We will offer different levels of solutions based on different requirement.
Welcome you to visit us! Picture shows are as following: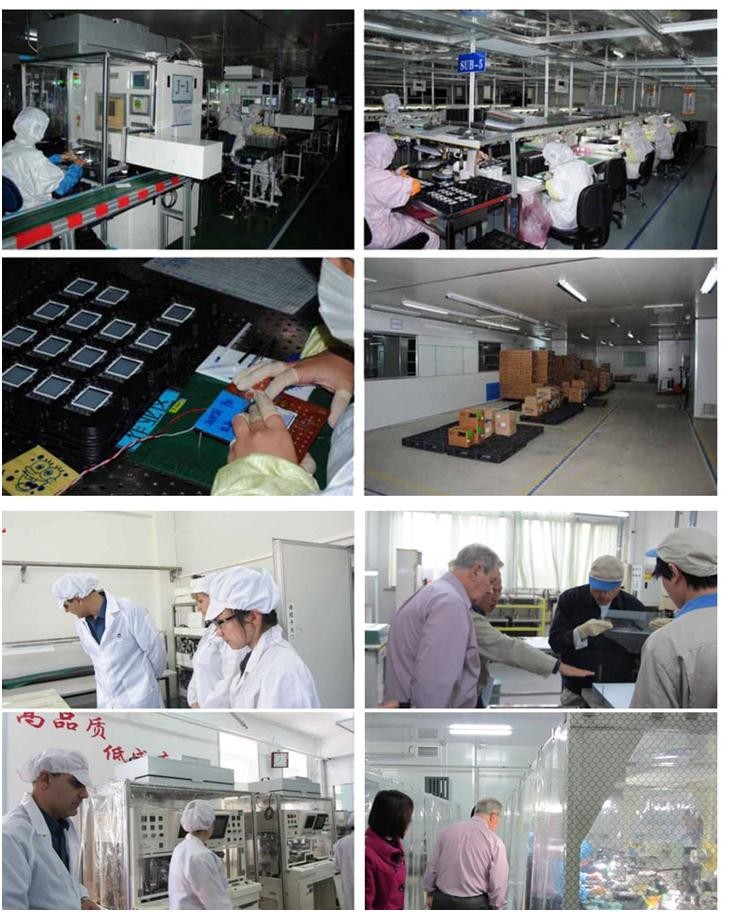 Q: Do you support custom made lcd panel?
A: Yes, of course. We support customization. But we need to have your detailed requirements first.
Because LCD's price is based on its main parameters,such as outline size and view area, display type,view direction and so on. Please check following details:
1) LCD Type: TN, HTN, STN, FSTN ( Normal: TN)
2) Display Mode: Positive  or Negative 
3) Polarizer Type: Reflective, Transflective or Transmissive
4)View Direction: 3:00, 6:00, 9:00, 12:00
5) Connect Type: Pin, Heat Seals, Zebra Strips
6) Glass Thickness: 1.1mm, 0.7mm, 0.55mm (normal: 1.1mm)
7) Working Voltage: 2.5V, 3V, 3.3V, 5V (Normal 3/5 V)
8) Multiplex Level: Static: 1/4Duty, 1/3Bais
9) Operating Temp: Normal: 0-50c, Extended:-20-70c, Super extended:-30-80c, Ultra extended: -40-80c
10)Storage Temp: Normal: -10-60c, Extended:-20-70c, Super extended:-30-80c, Ultra extended: -45-85c
11)Content: Digits, Symbols, Printed Color (normal:Digits with symbles)
12)Other: Shutter, 3D glass,VA Type, Special Shape, LCD Type E-paper and so on.
Q: How can I learn more about your company?
A: HuaErSheng/ Haresan is a professional manufacturer of LCD in China, we specialize in providing engineered LCD solutions for both standard and custom electronic products to a large variety of markets including the OEM, medical, industrial, automotive, computer, financial, point-of-sale, aerospace, and military markets.
You can visit our website to learn more about us.
---
Next:
0.95"AMOLED 180RGB×120
---